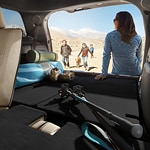 When it comes to capability, the Ford Explorer is a popular choice. That's because the Ford Explorer is designed to go just about anywhere under any weather condition. Here's a look at some of the smartest capability features of the Ford Explorer.
Make sure the coast is clear the next time you back up your vehicle. The Explorer offers a Rear Brake Assist System that provides audio and visual alerts when there's traffic behind your vehicle. The system can also automatically apply the brakes in emergency situations.
Get better control on any road with the Explorer's Intelligent 4 Wheel Drive System. This advanced system is able to bring appropriate power to each of the Explorer's four wheels to ensure better traction and control.
See all of the Explorer's capability features in action. Take a test drive today at Mullahey Ford in Arroyo Grande, CA. We're ready to save you more on the Ford Explorer of your choice.