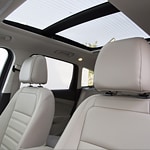 Owners of the Ford Escape have come to appreciate the popular crossover as a combination of value, performance, utility, and reliability. Ford has not rested on its laurels in designing the new Escape compact SUV. New features make the Escape a more pleasant ownership experience than ever.
The new Escape ends the frustration of leaving a store with hands full of packages, then needing to place them on the parking lot to open the vehicle. The Escape keeps the packages in your hands until they are in the cargo area. A clever electronic liftgate is activated by a quick foot movement under the bumper. Placing groceries on a hot or wet parking lot is a thing of the past.
Many have learned the art of parallel parking but few have mastered this task. The Park Assist 2.0 on the Escape can do the parking for you. Simply stop the Escape when indicated and press the button for Park Assist. The Escape then slides into the spot worry-free. At Mullahey Ford, we would be thrilled to show you all of the latest features of the new Escape. While on your test drive, be sure to let the Ford Escape parallel park for you.